Swiss mechatronics company Stäubli Group has opened new offices in Cypress, California, to accelerate growth in the US. The 1,676 sq/m space will represent all three divisions of the company; Electrical Connectors, Fluid Connectors and Robotics. https://t.co/wJfSghKUKZ
Twitter feed video.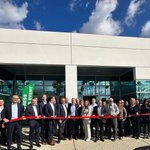 Advanced materials engineering group Versarien, which supplies graphene for polymer compounds, has announced that Neill Ricketts has resigned as CEO of the company. https://t.co/0Hx9zPaHfc
BluCon Biotech and LG Chem have entered into an investment agreement to scale up and commercialize BluCon Biotech's proprietary technology to supplement LG Chem´s bio-economy portfolio. https://t.co/5L2BPI0rb1
French independent distributor of specialty chemicals Safic-Alcan has strengthened its presence in the UK by acquiring 4PLAS, a distributor of engineered plastics. https://t.co/mIHPet95BU
PET producer Eastman closes offering of $500m of bonds due 2033, which it says is the first investment grade USD-denominated senior unsecured green bond offering by a US issuer in the chemical sector. Proceeds will be allocated to existing projects in ESG. https://t.co/glNodAhBVB
Load More...